"As Credorax moved from a fin-tech startup to a Principal Member acquirer for Visa and Mastercard merchants, the need to be in full control of the data rose. We needed a database that is scalable, available at 99.99%, that supports cross geo-cluster replication, offers site failover support, built in tools, local principal expertise, Near Online monitoring and Real-time reporting. MySQL was able to offer all these at a reasonable cost."

Nir Carasso
VP TechOps & BizOps at Credorax
Credorax is a licensed Merchant Acquiring Bank, providing cross-border Smart Acquiring services to global merchants and payment service providers. Remaining true to their hi-tech roots and focus, Credorax is creating the next generation technology-driven banking solutions for the eCommerce arena.
Business Challenges
In 2007, Credorax saw an opportunity to fundamentally change the landscape of traditional merchant acquiring by using its technology assets and acumen to address the unique needs of online merchants of all sizes. This led the company to evolve into a Merchant Acquiring Bank. Remaining true to their hi-tech roots and focus, Credorax are creating the next generation of technology-driven banking solutions for the eCommerce arena. They are the first hi-tech company to become a principal member of Visa and MasterCard and a financial institution licensed under the PSD (Payment Services Directive). They needed an acquiring engine that scales the internet and is redundant with uptime of 5 Nines (99.999%). Today, Credorax's Smart Acquiring & NextGen Payment Processing makes accepting payments simpler, safer and more cost effective than ever before.
Credorax's Architecture
Credorax's main payment processing engine uses MySQL at its core, for processing hundreds of transactions a second from customers globally. MySQL was chosen for it's flexibility and modular design allowing it to fit into a custom designed architecture meeting Credorax's specific throughput, availability and future scalability needs at a cost-effective price point.
Credorax utilizes a custom-meshed, highly available MySQL Architecture which enables both high levels of uptime and spreading of the load for reporting and time delayed backup.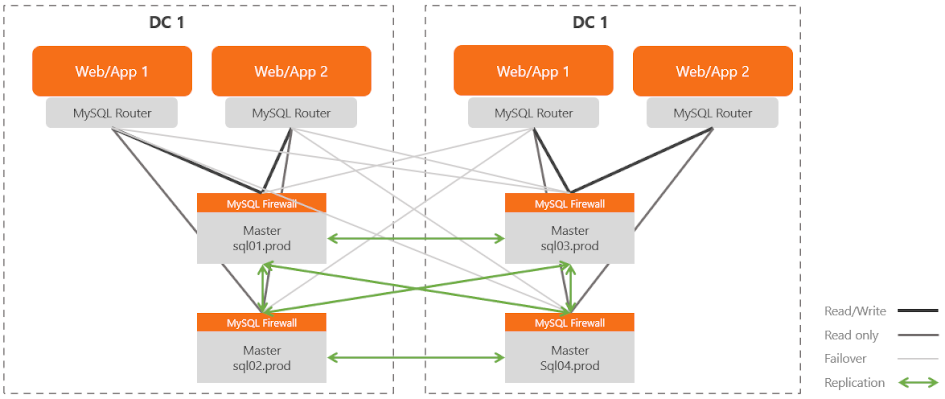 Why MySQL?
Credorax chose MySQL for the following reasons:
MySQL Flexibility - MySQL gives Credorax the flexibility to configure and optimize MySQL to meet the application requirements.
MySQL Scalability - Sustained performance and scalability allowing Credorax to handle ever increasing users, queries and data loads.
MySQL Reliability - MySQL Enterprise Edition is an enterprise-grade product that Credorax can rely on 24/7.
Lower Database TCO - Allowing Credorax to deliver a high-performance solution that does not require specialized skills to operate.
MySQL innovation - MySQL was a part of Credorax's journey growing from Start-up to production, they have a unique and innovative solution; an entirely new breed of acquiring to PSPs, ISOs and online merchants. MySQL was the answer to an innovative technology that encourages thinking out of the box.