"By moving to MySQL, we have been able to change our product architecture and design approach. We're more agile and able to get products to market faster, which has had a material impact on our business."

Tom Minifie, CTO
AVST® Overview
With more than 30 years of continuous innovation, Applied Voice & Speech Technologies, Inc. (AVST) is a trusted developer of software-based Unified Communications1 (UC) solutions. Over 10,000 customers rely on AVST solutions, from SMBs, to large Enterprises and top Healthcare, Educational, Governmental, and Hospitality organizations worldwide. AVST solutions deliver integrated unified messaging, speech recognition, context-aware personal assistants, mobile clients for iPhone® and Android™, automated attendants, call processing, voicemail, fax, notification, and other business process capabilities, which together comprise cutting edge UC applications delivered on the most interoperable UC platform in the industry. AVST is able to offer best of breed solutions due to its unmatched interoperability with the widest range UC components from multiple leading vendors. Other UC vendors claim best of breed solutions but often classify only or mostly their own technologies as "best". AVST allows its customers to define best of breed for themselves - using the latest, market-leading components and/or technologies they already have.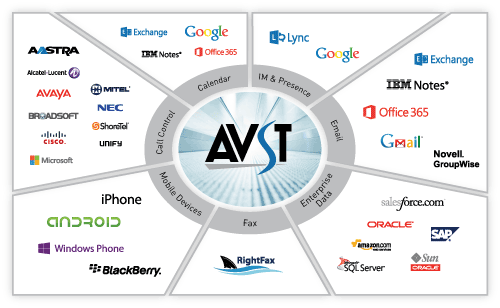 A Database Challenge
AVST CTO Tom Minifie and his team wanted to move their products to a multi-server architecture and take a more modular approach to their development. This necessitated moving their solutions to a SQL database from their existing non-SQL Faircom C-Tree database. For the replacement database, Tom and his team's primary concerns were: cost-effectiveness, ease of development, replication, and high performance.
Using a low cost database was important because they were moving from a free database. Ease of use was key to their ability to add product features quickly, using agile development vs. a waterfall approach. Only one person on their team had Faircom C-Tree database development skills, which meant the other developers had to submit requests - and wait, creating a serious bottleneck in their development cycles. They wanted application engineers to be able to add tables to the database and make other modifications themselves.
Strong replication for high availability was and is mandatory: AVST has over 10,000 customers and more than 15 million users who depend on AVST solutions to communicate and conduct business. High performance was also critical to delivering real-time communications.
The MySQL Solution
Why MySQL
Tom and his team already had some experience with MySQL and liked its functionality, which placed it on the short list for deeper investigation. Because AVST's products are Windows-based, Microsoft SQL Server was also considered. "As compared to Microsoft SQL Server, MySQL was superior. Stronger replication and lower cost were the primary reasons why we decided to use MySQL," said Tom.
MySQL's Key Benefits
More Agile Development, Reduced Time to Market
"By moving to MySQL, we have been able to change our product architecture and design approach. We are more agile and able to get products to market faster, which has had a material impact on our business," said Tom. AVST application developers have found MySQL easy to learn and use, eliminating any database-related development bottlenecks.
Zero Admin
MySQL hasn't needed any customer administration or maintenance, which has helped lower costs for both AVST and its customers. "With MySQL, there's no separate install, it's all embedded within our software. Our customers just want the database to work. They don't want to have to manage the database. MySQL has just worked," said Tom.
High Availability
AVST solutions use MySQL replication to duplicate data from a central MySQL database to MySQL nodes at external sites. "Our solutions have to be able to survive a WAN outage. If one site is disconnected, it can not result in an unanswered call. We've been able to achieve that with MySQL. We can operate even if we lose connection with a node," said Tom.
Compete and Win against Giants
"We've been able to create a private cloud architecture that allows us to compete against much larger competitors and win because of MySQL," said Tom. MySQL replication in particular has given AVST solutions the HA, scalability and performance capabilities that enterprise customers demand.
Address New Cloud Market
AVST customers wanted to deploy their solutions on private cloud environments. MySQL has allowed AVST solutions to meet the scalability and availability demands of the cloud, and helped open up a new market for AVST at no additional cost.
Real-Time Performance
An AVST solution can process and record 50k new calls and 15k messages each day, adding 65,000 new records daily, or approximately 24 million records / year to its MySQL database. As messaging solutions, AVST products need to be able to search and find records in real-time. AVST solutions have been able do that with MySQL, even with large and constantly growing data volumes.
Summing Up
In summary, Tom said the following: "Our experience with MySQL has been very positive all the way around. It's allowed us to transform our architecture and development process to be more agile and get to market much faster. We've been able to scale to meet the needs of a new cloud market, and provide the continuous availability and real-time performance our customers demand. MySQL has been good for our business."
1 Unified communications (UC) is the integration of real-time communication services such as instant messaging, telephony, speech recognition, video conferencing, desktop sharing, and presence, with non-real time communications such as unified messaging (integrated voicemail, e-mail, SMS, and fax). UC is not necessarily a single product, but a set of products that provides a consistent unified user-interface and user-experience across multiple devices and media-types. http://en.wikipedia.org/wiki/Unified_communications